Green Pet Product Reviews – Natural Pet Dental, Flea & Tick Plus Pet CBD
Get an ESA Letter in 3 Easy Steps! Step 1: Quality online, Step 2: Order ESA and Step 3: Doctor approval. Qualify your pet Now. ESA Approvals in 24-48 hours from SupportPets.com.
Our Natural Pet Product Reviews
Natural Pet Dental, Flea & Tick Plus Pet CBD
Below are our Natural Pet Product Reviews for natural pet products including dental, CBD and flea & Tick products including where to get these products:
---
CBD Oil For Dogs Review
CBD For Dogs Review: The Video Showing Proof It Works!
Our CBD Oil For Dogs Review is in video format to show you the results with Xena who was quite terrified of a vicious dog who no longer lived across from her…: Pet Anxiety Relief in the form of CBD Oil For Dogs and Cats – Canna-Pet for Dogs in her case. It's here and available now! Yes…it not just for people anymore…CBD Oil (Cannabidiol Oil) is now available for your pets! Does it really work? Well watch the video case study of Xena and you will see how she was a dog terrified to go downstairs to pee and after eating the biscuits a new dog emerged! Over time she no longer needed the biscuits to go downstairs but without the biscuits I'm sure she'd still be at the top of stairs afraid to go downstairs! Click on the graphic below for more info and discount code…
This CBD Oil For Dogs Review Is Based on Pet Anxiety But CBD Can Help in Other Ways…
CBD Oil For Dogs and Cats: Help For Pet Anxiety, Pain & More!
CBD Hemp Oil for pets is not marijuana in any way and does not get pets high as there's no THC. It's natural and safe for your pets. Click on the graphic above to see the cannabinoid (CBD) product we highly recommend. It helps dogs and cats as well as horses and other animals too. It is safe to use and made with organic, non-gmo hemp. Besides anxiety and pain it is used for cancer, seizures, arthritis, digestive issues, joint and hip issues and much more. As your pet ages…it can help too. Vets recommend it for pets. And if you have pet insurance this cannabinoid (CBD) product including capsules and biscuits may be covered…
Click here to read about CBD for Pets: Help for Anxiety and much more!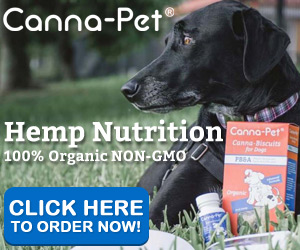 Regarding our CBD Oil For Dogs Review, Xena would refuse to go down the stairs or for a walk until Canna-Pet for Dogs! The video for our CBD Oil For Dogs Review is below:
This is Xena before CBD. As you can see she would not go anywhere!
---
More Pet CBD Options
In The Spotlight: Two New High Quality CBD Oil For Dogs and Cats for Pain, Anxiety and More
High quality CBD for Dog and Cats With Many Tasty Options
What is unique about these CBD for Pets products are the many options with flavors your pet would truly enjoy like bacon, chicken, cheese, beef, steak and more. They offer different products for your type of pet and size too. And they have CBD tinctures, bite, treats, biscuits, sprays… There's CBD that offer help for specific conditions and issues like even tartar control. So just click to learn more about what they offer for CBD for Pets. And they have many options for people as well in terms of CBD.
New High Quality CBD Dog Treats With A 5 Star Rating
Here's some new High Quality CBD Dog Treats and best of all there's sale going on right now so you can try it and save money. Each treat has 5 MG CBD which is not enough to make a dog sleep so your dog can be awake to enjoy the benefits of CBD and hanging out with you! The sale is for CBD for people too so just click on the link to find out more about the CBD Dog Treats and then check out the options for CBD for people as well and find out more info:
Dog Tartar and Plaque Removal Should Be Done Daily
Some Dog Tartar and Plaque Removal Products Including Reviews of DentaSure and PlaqueOff
Dog Tartar and Plaque Removal should be added to your daily list of pet chores as it is very important. Vets always say brushing pets' teeth is the only option but the good news is that there are other options…Natural Dog Tartar and Plaque Removal and these can work for cats too but the products vary so be sure to read all the info if you have both cats and dogs as some are for dogs only. Below are two that worked great for my dogs and saved them both from risky dental cleanings under anesthesia…PlaqueOff and DentaSure. And there other options too in the form of gels, sprays and powder. I found the DentaSure Gel helped Sweetie's real bad tartar plaque issues. And once I got the problem under control I switched to PlaqueOff as I had some on hand. I had initially used PlaqueOff but despite getting rid of Xena's bad plaque tartar on her teeth…it wasn't working for Sweetie. Each is different but both products are good so I recommend both. Both reviews are on this page…before and after pics are at the bottom of this page…
---
In The Spotlight: Cat and Dog Tartar and Plaque Removal: PlaqueOff
This comes in powder and treats. I have used both and pleased with this product. Please read the review on this page for more info and click to read the Amazon reviews and more info…
The Best Dental Sprays for Dog and Cats:
Pet dental sprays are a good choice too for daily pet dental care and easy to use. You simply spray on your pet's teeth or in water or have the option of either. Some are for dogs only so you need to be careful when selecting. The one in the spotlight is for both dogs and cats and has many great Amazon reviews…just click to read them and see more info… There's more natural dental spray options below…some are for dogs only but there pet dental sprays for both dogs and cats:
Pet Dental Gel for Dogs and Cats
The advantage of the gels is that they let you place right where the problem is. Here's one on Amazon with great reviews for dogs and cats…
PlaqueOff Just Works!
If Dog Plaque and Tartar Removal Are Not Done It Can Lead To Illness…Even Death! But There Are Other Remedies Like Proden PlaqueOff That Can Work In Instead Of Brushing Your Dog's Teeth. I cannot stress that Dog Tartar and Dog Plaque Removal is very important…it truly is and doesn't have to be difficult. Xena had a bad Tartar Problem on her teeth. The first vet said she needed to go under anesthesia to have the plaque scraped off her teeth and said it could cost up to $1600 but despite the cost my biggest worry was her age and anesthesia as she was 8 years old at the time. As there are many Dog Tartar and Dog Plaque Removal options on the market that are natural and safe I chose that route to try first and one like the suggestion on this page. I took her back to the first vet about 2 months later but they told me still the same thing. So I took her to a new vet in town and he removed the loosened plaque on her teeth with his fingers as the product worked and did its job by loosening the plaque for easy removal. So products like this work for Dog Tartar and Plaque Removal and are a much safer option than going under anesthesia so I highly recommend trying this type of product first…maybe try a few first before going the anesthesia route which is a risk for any dog.
Click on the button below to find out about the Natural Dog Tartar Removal product that worked for Sweetie's bad case of plaque/tartar:
Below is Proden PlaqueOff that worked for Xena and allowed the vet to removed the plaque off her teeth with his fingernails. I'm trying this on Sweetie right now but not sure either way if it's working for her. Below are all options on Amazon..just click to see all:
Natural Dog Tartar Removal Using DentaSure on Sweetie's Teeth: Natural Dog Tartar Removal Worked For Her!
Not only are veternarian dental cleanings expensive but but pets must be put under anesthesia which there is a risk always and in this case an unnecessary risk as products like DentaSure can work. Unknowingly I picked the right dog to use Natural Dog Tartar Removal with DentaSure as Sweetie is a Chihuahua and guess what breed is #1 for dental issues? Yes.. Chihuahua is #1 at this link below and other links too or in the top 10!:
Which Dog Breeds Have The Worst Teeth?
When I got Sweetie I took her to the vet immediately and the first issue he noticed was her teeth…a very bad case of tartar and plaque at only 1 year old and said she needed a dental cleaning but I decided to try the natural approach first that worked for Xena's plaque and tartar. But that product did not work for Sweetie so I tried DentaSure. After 1 month I noticed some improvement but she was a tough case so I asked for advice from the company and was told to increase to 2 times a day for the application which was the gel type. More than 1 application per day helped but it did take a few months in all to remove the plaque and tartar. Below are the photos showing how bad her teeth were in the beginning and at the end…the tartar and plaque problem gone with Natural Dog Tartar Removal. No expensive and risky veternarian dental cleaning needed now! I highly recommend trying the Natural Dog Tartar Removal route and DentaSure. DenatSure worked for Sweetie. And if one product doesn't work I'd say still try the Natural Dog Tartar Removal route…it is safer and lower in cost than the veterinarian dental cleanings.
Here's where to get DentaSure:
Below is Proden PlaqueOff that worked for Xena and allowed the vet to removed the plaque off her teeth with his fingernails:
Very bad plaque and tartar
DentaSure removed some plaque and tartar
DentaSure removed all plaque and tartar
---
Disclosure: We have an advertising relationship with this company. We do promote certain products and services at this site that we believe are great (we either use them or would use them). In this case with the review we did use product/service and found it to be high quality. For more info please read our Affiliate Disclosure/Disclaimer.
Disclosure: C. A. Saucier is a participant in the Amazon Services LLC Associates Program, an affiliate advertising program designed to provide a means for sites to earn advertising fees by advertising and linking to amazon.com.